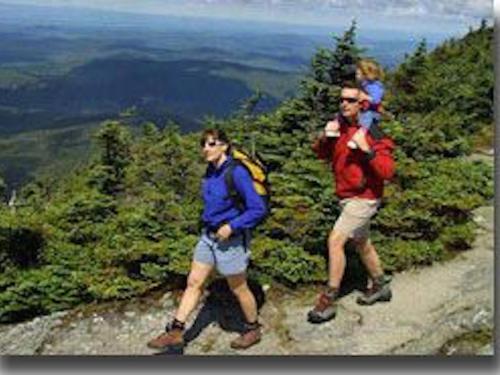 We like to think that Middlebury is the 'Gateway to Western Vermont' and all that the area has to offer. If you're here to explore the wonderful natural beauty, whether on foot or on two wheels, here are some great ideas to give you a head start in your planning. Check out our VT Adventurers Package here for future visits to Middlebury, VT!
Hiking Near the Middlebury Inn
There is a wide variety of hiking near the Middlebury Inn. From trails that are steeped in Revolutionary War history to short steep hikes that lead you to panoramic views of the Champlain Valley, you will find a lot of great choices to round out your trip to Central Vermont.
Long Trail Green Mountains
No hiking guide would be complete without pointing out the great work the Green Mountain Club/Breadloaf Section does in maintaining the Long Trail, which is just a short drive from Middlebury. The Long Trail Green Mountains is the North – South Vermont trail that shares the southern route with the Appalachian Trail. You can access the Breadloaf Section at the Middlebury Gap on Rt. 125, about 10 miles East of Middlebury. Go to: www.gmcbreadloaf.org.
Cooley Glen/Emily Proctor Trail
For a pleasant hike through the Breadloaf Wilderness Basin, the Emily Proctor Trail is a side trail to the Long Trail and is a Moderate difficulty 7 mile Out and Back trail near Lincoln VT. For Details: Emily Proctor trail
Mount Independence
A visit to Mount Independence State Historic Site is a must for any Revolutionary War buff. A series of well maintained hiking trails meander through this beautiful site on the shores of Lake Champlain, just across from Fort Ticonderoga in NY state. Just West of Orwell, the park is about a ½ hour drive from Middlebury. A bonus is the Cable Ferry just north in the town of Shoreham, which takes you across the lake to Fort Ti. Mount Independence Historic Site info, Click HERE
Snake Mountain
For a great view of the farms of Champlain Valley and Lake Champlain, the hike to the top of Snake Mountain can't be beat. It's a Moderate climb Out and Back of about 3 ½ miles and with some lingering for the view at the top, takes about 3-4 hours. The trailhead is at the end of Wilmarth Road which is off of VT Rt 22A near Addison. Parking is 500 yards north of the trailhead on Mountain Rd.
Trail Around Middlebury
Close to home is the Trail Around Middlebury, which is maintained by the Middlebury Area Land Trust. Easy access is available at Battel Woods about 2 miles East of the Inn or where it crosses Rt 30 next to the Ralph Myhres Gold Course at Middlebury College. For a info and a map; www.maltvt.org/TAM
Moosalamoo
One of the true gems of the region is Moosalamoo, 22,000 acres nestled in the Green Moutain Forest. Access from the north is off of Rt 125 at the Oak Ridge Trail. This meets up with the Mt. Moosalamoo Traill on the north side of Mt. Moosalamoo and then on to the North Branch Trail. Soon you're at Branbury State Park (more on that later) where you'll connect with the Leicester Hollow Trail south to Rt 73, the southern terminus just east of Brandon in Goshen. The trail is 19 miles end to end, but can be broken up into smaller segments for some great day hikes. www.moosalamoo.org
Branbury State Park on Lake Dunmore
Branbury State Park is on Lake Dunmore, about 5 miles south of Middlebury off of Route 7 on Rt 53. Here you'll find the beautiful Falls of Lana Trail (1 mile), the Silver lake Trail (1.6 miles) and access to the Mt. Moosalamoo Trail (6.8 mile loop to the campground). A bonus is the beautiful State Park on the shore of Lake Dunmore with beach access and picnic shelters.
As with any choice of hikes, talking to a local can make all the difference. You'll find someone eager to direct the way in many of our staff here at the Middlebury Inn. Just ask!
Other Links:
http://www.localmotion.org/
www.greenmountainclub.org
Biking Near Middlebury Inn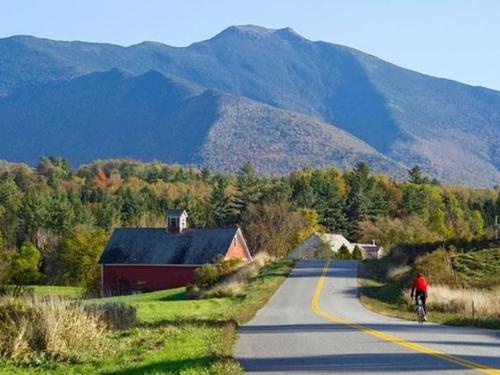 Whether you're into short distance or long, road or mountain, or multiple degrees of difficulty, we have the routes for you. Being centrally located in the Champlain Valley, Middlebury is the perfect "hub and spoke" destination for any type of biking with a plethora of varying terrain for a multi-day stay. Come with your bikes, rent while you're here in town, or sign up for a full on bike adventure with one of our preferred touring companies and enjoy the outdoors!
One of our friendly tour companies have allowed us to use a few of their local routes to give you an idea of what is available using the Middlebury Inn as your comfortable base camp (see below). We thought they were a perfect example of what you can expect on a three or four day trip to beautiful Middlebury, VT.
ROUTE A
It's east from Middlebury to Chimney Point and the beautiful new Crown Point Bridge. The views of Champlain from the top of the span are breathtaking. We'll head south to Historic Fort Ticonderoga. After a visit to the Fort we'll take the charming Fort Ti Cable Ferry back to Vermont and a beautiful 20 mile ride back to Middlebury. To view route, please click on the pdf below.
ROUTE B
In Vermont mountain passes are called gaps. We'll do Middlebury and Brandon Gaps – each requiring a 1,500 elevation gain over a short distance. Along the way we'll pass the Bread Loaf Campus and the quaint towns of Ripton, Hancock and Rochester. Country stores in each town – must stops. To view route, please click on the pdf below.
ROUTE C
Just north and east of Middlebury you will enjoy the very cool town of Bristol. From Bristol on to Lincoln on to Monkton and south and west to Vergennes the smallest city in Vermont. Bristol, Lincoln and Vergennes are unique, charming and so Vermont. The countryside will excite you and the restaurants and shops will delight you. To view route, please click on the pdf below.
Provided by Sparky's Green Mountain Adventure – used by permission.
Links and further information
Packaged Tours by Great Bike Tours, Classic Adventures, POMG Bike Tours of VT, and Escapades Bike Tours
Bike Rentals by The Bike Center within walking distance of the inn.
Middlebury Motor Coach Tours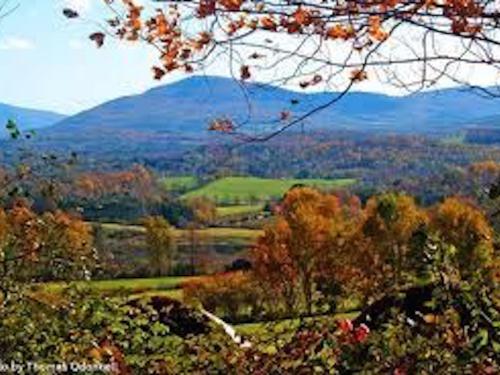 Group Accommodations in Middlebury – Vermont Vacations
You're our guests beginning with our en route motor coach greeting and welcome reception, to the last farewells. We literally "Roll out the Red Carpet" for our guests! The key to our success is our staff. They are knowledgeable in VT history and folklore; friendly and fun! We have front desk service and security 24/7, personal service is alive and well at the Middlebury Inn. Enjoy any number of attractions from our very central hub and spoke destination.
Vermont Motor Coach Tours with Hospitality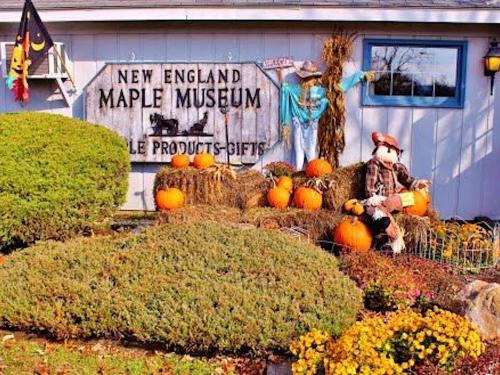 Your group can tour the Lake Champlain Maritime Museum to discover the stories of Lake Champlain's citizens and soldiers, merchants, mariners, and boat builders. Explore four acres of exhibits: shipwrecks and nautical archaeology, antique boats, a working blacksmith shop, and other hands-on history. Climb aboard a full-scale replica 1776 gunboat at anchor in the museum's North Harbor. Watch archaeologists at work in the Conservation Lab.
Experience the fun and educational 30-minute guided factory group tour of Ben & Jerry's. Watch a moo-vie, get a bird's-eye view of the production room, and sample the flavors of the day.
Take a guided tour through Vermont's maple sugaring industry at the New England Maple Museum. Learn the history of maple sugaring, tour the museum, visit the tasting room, and then take a trip down "sugaring lane" for a slideshow in the theater. Afterwards, stroll through the gift shop for maple products and unique Vermont crafts, books and specialty foods.
View A Small Sample of Our Motor Coach Tours in Vermont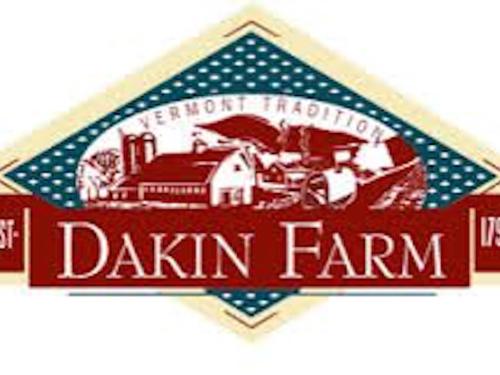 Vermont Culinary Experience Tour
Experience why Vermont is known worldwide for its unique quality of produce and food products. You'll learn about Vermont agriculture and local partnerships between the grower and the consumer, which encourages the use of fresh local ingredients. As part of your group's itinerary, you'll enjoy a wine and cheese tasting, tour a local winery and brewery, and local farms to discover what makes a culinary experience in Vermont truly memorable.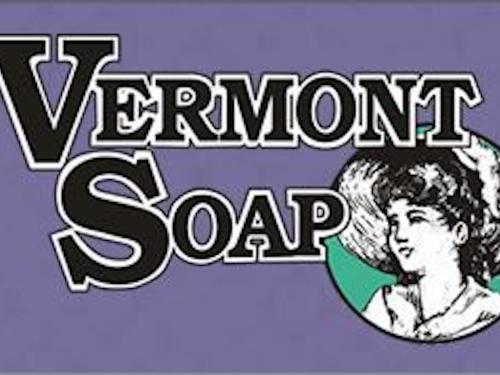 Vermont Farm Heritage Tour
We invite your tour group to sample a "Taste of Vermont" with our Vermont Farm Heritage Tasting. Your tour group is greeted with our royal red carpet arrival, stepping off your coach into the spacious lobby of our historical Victorian inn. Relax with a cup of hot tea, coffee, lemonade and freshly baked cookies. In the evening, enjoy a delicious wine and cheese party followed by a dinner made with locally sourced Vermont products.
Christmas House Party
Christmas comes early to The Middlebury Inn. Our Staff would like to celebrate Christmas with your group. Enjoy a bountiful Vermont breakfast, holiday dinner, festive eggnog party, Christmas caroling, a souvenir group photo and/or a special Christmas gift for you! Come see why a Christmas celebration in Vermont is one you won't soon forget! Christmas House Parties available the end of November through December 31st.
Quilt Festival Tour
Join Middlebury Inn every summer for a weekend of fun at the Vermont Quilt Festival, which is one of American Bus Association's Top 100 events! You'll explore the historic quilts in a remodeled textile building. Enjoy a dinner cruise one night upon the Spirit of Ethan Allen III on breathtaking Lake Champlain after a day of touring, which includes the Vermont Teddy Bear Factory and the Shelburne Museum. Held in June in Essex Junction, August and September in Woodstock and even years in the Spring in Rutland and even years in October in Middlebury.
"It's In The Bag"
Here's to Shop Till You Drop! You can visit all the unique retail shops that we have locally – Geiger of Austria Outlet Store, Danforth Pewters, and Vermont Soap. Next grab your bags and we head on a short jaunt to Dakin Farms. Continuing in our shopping mode we'll head further north to Burlington, the largest city in Vermont. Here we visit the popular pedestrian mall located on historic Church Street Marketplace, and enjoy shopping and lunch. After lunch, you can head to Lake Champlain Chocolate Factory for a tour covering "From Bean to Chocolate". Sample fresh, award-winning sweets all made right before our eyes. And the best "it's in the Bag" itinerary wouldn't be complete without stopping at the Christmas Loft. The Christmas Loft gives their customers the expereince of Christmas year-round incorporating fun and specific-themed rooms. It's worth the stop anytime of year!
"Vermont Museums"
Our first stop will be the Henry Sheldon Museum of Vermont History located right in the heart of Middlebury. Founded by Henry Sheldon, this is the oldest community museum in the United States, a single-minded collector and tireless preserver of the past. The Vermont Folklife Center right next door was founded in 1984 and is dedicated to preserving and presenting the cultural traditions of Vermont and the surrounding region. The Center has made preservation of the spoken word the core of its endeavors. As you continue your theme of museums, the next stop will take us to Shelburne, the home of The Shelburne Museum. They invite you to visit their 45 acres of Americana, the collection of Electra Havemeyer Webb, the museum's founder. You can see live birds through one-way viewing windows, enjoy butterfly gardens and observe a woodcarving demonstration. Just adjacent to the museum is Shelburne Farms where you will round off your outing.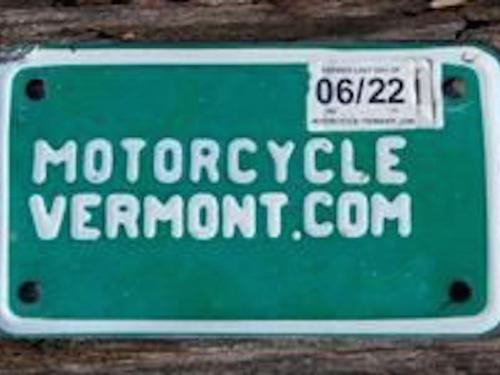 Vermont has something for every type of motorcyclist: low traffic counts on roads with relaxed, country sweepers; technical twisties for challenge; remote dirt roads through forests for dual-sport adventure. In a single day ride, you can easily pick a route that combines all of these characteristics. Vermont has everything a motorcyclist could want. So why are you waiting? Here are some nearby, notable routes to Middlebury VT:
Flowing, Rolling, Take the Vermont-30 Alternative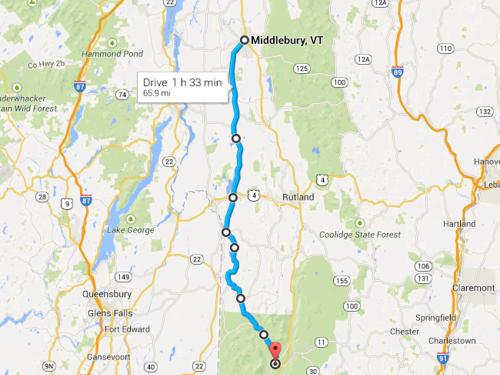 Estimated Mileage: 66 miles
Estimated Time: 1 hour, 34 mins
Attributes: Twisty,Cruising
View More Information Here
Vermont-30 is your best choice, if you're looking for a pleasant, scenic alternative to running US-route 7 between Middlebury and Manchester. VT-30 rolls and curves with open vistas east to the Greens and west to the Adirondacks, past lakes Bomoseen and St. Catherine.
Bristol-App Gap-Middlebury Gap Ride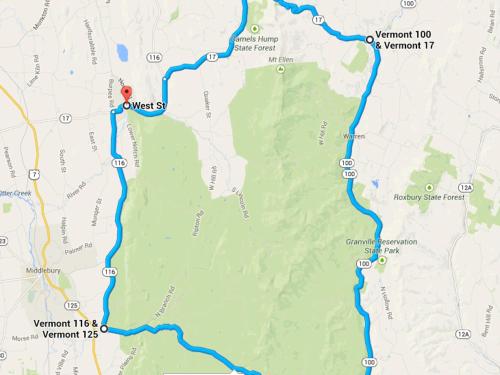 Estimated Mileage: 67.2
Estimated Time: 2 hours, 17 mins
Attributes: Twisty
View More Information Here
The Bristol, App Gap, Middlebury Gap ride contains four mountain passes in a 67 mile, two hour loop. The highlight of the ride is the 7 mile, 53 turn Appalachian-Gap, which is the best sport-bike road in the state.
Northeast's Premier Charter & Guide Service
Lake Champlain Fishing Tours
Guided Fishing Trips  |  Drift Boat Trips |  Fall Foliage Tours
Offering Exciting Trolling Charters, Drift Boat Trips, Casting Trips & Ice Fishing Tours
Visit their website here.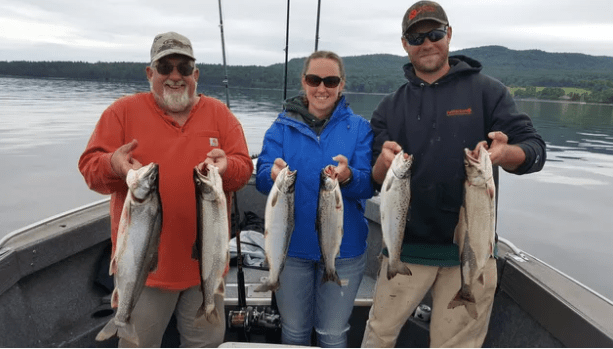 Vermonters naturally gravitate towards entrepreneurship. Whether it's ice cream (Ben & Jerry's), beer (Otter Creek) or socks (Darn Tough), some creative local will create his or her own success story and we love to boast about them (for good reason)! You'll be surprised at the variety of products "Made in Vermont" and we'll be happy to help you go visit them while you're here in Middlebury Vermont.
Try our Middlebury Tasting Trail Package
Visit Woodchuck Hard Cider,  Appalacian Gap Distillers,
Lincoln Peak Winery and Drop – in Brewery
(Don't forget a designated driver)
The Ralph Myhre Golf Course
The Ralph Myhre Golf Course is a gorgeous 18-hole golf course featuring breathtaking views of both the Green Mountains and the Adirondacks.  Ralph Myhre is completely open to the public 7 days a week and is owned and operated by Middlebury College. The course is located adjacent to the Middlebury College campus and is open for play from April through November 1, weather permitting.  Whether you need to brush up on your skills or never picked up a club, Ralph Myhre is a fun and enjoyable atmosphere for all skill levels.
There is a golf shop featuring retail clothing and hard goods as well as services such as club repair, club and golf cart rentals.  Other facilities include a driving range, practice putting green, practice sand bunker, and practice chipping area.  Ralph Myhre also has a PGA teaching professional on staff that is eager to assist with club fittings and has a reputation for providing great lessons and clinics.
The Ralph Myhre Golf Course is also home to Above Par, a casual restaurant and bar with spectacular views and amazing food.  Above Par also offers beverage cart service on busy days.For more information or to book a tee time visit
http://www.ralphmyhregolfcourse.com/
 or call 802-443-5125