A family-friendly winter adventure destination in the heart of the Green Mountains of Vermont.  
55+ km of skate and classic skiing, snowshoeing and fatbiking nestled in the heart of the Green Mountain National Forest. 
Stay and Play in our woods this Winter!
Skiing has long been a favorite winter pastime in Vermont. Middlebury, part of Addison County, is nestled in the Green Mountains which offer some of the best recreational winter fun. Just outside of Middlebury are two of the best Alpine and Nordic ski areas- Middlebury Snow Bowl & Rikert Nordic Center .
The Winter Fun Inn Vermont Stay & Play Package offers an immersive winter experience by allowing guests to use either ski facility, even on the same day & includes two nights of a relaxing stay at The Middlebury Inn as well as complementary breakfast. The Middlebury Inn is located just 22 minutes from Middlebury Snow Bowl & 21 minutes from Rikert Nordic Center making it an easy commute to your winter activity fun. The Inn is also situated close to many other area attractions such as dining, shopping, theaters, and bars.
Both skiing facilities offer modern snowmaking systems to enhance nature's own winter wonderland. Enjoy your winter fun in ten different ways with Nordic Ski ckassic, Nordic ski skate, back country ski, snowshoe, fatbike, alpine ski, telemark ski, snowboard, alpine touring, and glade skiing. With The Winter Fun Inn Vermont Stay & Play Package you can spend your morning skiing and your evening snowshoeing at one of the fantastic facilities!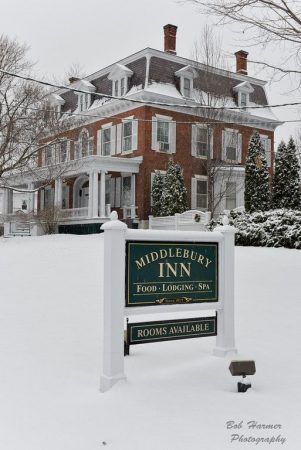 Winter Fun Inn Vermont Stay & Play Package details:
-Two nights of lodging and two days of ski passes. Double occupancy.
Alpine Skiing Snow Bowl: $241 per person weekday/$266 per person weekend (taxes not included)
Nordic Skiing Rikert: $165 per person weekday/$190 per person weekend (taxes not included)
-Complimentary Breakfast
-Lodging reservations valid 7 days a week
-At each ski area –a 10% discount on equipment rentals and lessons. Lessons are by prior appointment only at both areas
-Your lodging will provide you 2 days of vouchers to be presented at the ticket counter at either Middlebury Snow Bowl or Rikert Nordic Center